As is usually the case, when an NFL team struggles, the quarterback takes the brunt of the criticism. While that might be accurate in most cases, it's not accurate when it comes to the Philadelphia Eagles.
Claim Your $1,250 Bonus at DraftKings Sportsbook

Up to $1,250 BONUS
New User Bonus. T&Cs Apply
DraftKings Promo: Bet $5 Get $200
PLUS $50 Bonus Bet On Deposit

PLUS Up to $1,000 Deposit Bonus
PLUS a Daily No Sweat Same Game Parlay
Gambling Problem? Call 1-800-GAMBLER

To Claim: Click Play Now
Did Carson miss a few throws? Sure, but if you're blaming Carson Wentz for Philly's underwhelming 2019-20 season… just stop.
I love the passion when it comes to Philly fans, but with that same passion comes opinions based on 100% emotion and 0% truth.
So, before bashing Carson Wentz with your hate-filled twitter rant, or arguing that Foles is better than Wentz on sports-talk radio… take a deep breath, collect your thought and let's think about the facts.
Don't let your emotions get the best of you and let's take a look at the real reasons for the Eagles struggles this season:
Wide Receivers – Just Plain Bad
It's time to face the facts: this wide receiving corps stinks (not including the TE's). This unit has been nothing short of terrible. The total 25 drops which lead the league, and when they're not dropping the ball they're running bad routes.
Carson Wentz can't pass to himself!
Coming into Sunday's game, the Eagles wideouts had combined for 127 yards on 15 catches in the past six games.
17 NFL wideouts each have more yards and catches than every Philly WR in those same six games. SEVENTEEN!
Michael Thomas alone has more catches this season than the entire Eagles WR staff
Eagles Tight Ends and Running backs have way more than half of the total team catches.
Brian Baldinger, aka "Baldy" evaluated film from the Pats game, and the video doesn't lie. Here's what he had to say about the receivers:
"This is not a route. Who is coaching these wide receivers? It's a joke! …The whole thing is terrible"
.@Eagles on 2-6 try to run a "switch route" between WR/TE. This is awful. Can you telegraph to the @Patriots any sooner what you are doing? Are they coached to run this like they are in quicksand? #BaldysBreakdowns pic.twitter.com/4FK5r0JZx7

— Brian Baldinger (@BaldyNFL) November 18, 2019
---
DeSean Jackson was a good offseason addition but it's the same 'ol D-Jax: he has what is probably the best game by an Eagles receiver this season (154 yards and a pair of touchdowns) but he's also been dealing with injuries and has only really played in one game.
---
Next up is Alshon Jeffery, who has also been banged up but has played eight games. He's averaging a paltry 44.1 yards per game this season with just three touchdowns. The yardage totals put him on pace for his worst season since his rookie year.
Plus, he seems to be turning into a locker room cancer with his "anonymous" quotes trashing his QB
(3 instances in the last two seasons, that we know of)
---
Then there's Nelson Agholor. Where do we start? He had two chances for TDs on Sunday and couldn't convert either time.
He doesn't seem aware of where he is and where the ball is, which is 2/3 of a wideouts job. Do you bench him? What would you lose?
Yes, he's fast, but if he can't catch the ball, does it matter? He has played every game this season, with around 7 or 8 drops and just 322 yards. Oh yeah, he's making over $9 million this year alone.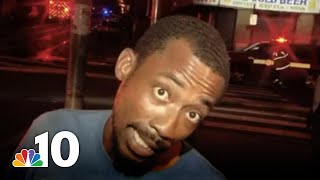 New Players get up to $200 in Bonus Bets at FanDuel Sportsbook
Up to $200 in Bonus Bets
Available on Desktop, Android & iOS

To Claim: Click Play Now

And then there's Mack Hollins and J.J. Arcega-Whiteside. I'm sorry but Hollins shouldn't even be on the roster. He looks completely useless as he can't block, catch or run crisp routes.
As for Arcega-Whiteside, the No. 57 pick in the 2019 NFL Draft, all we heard is how he'll "contribute right away" and "will be a factor in the red zone". He has a total of three catches this entire season.
The receiving corps is in shambles and Wentz is getting no help in that regard.
---
Inconsistent Offensive Line
The offensive line was supposed to be one of the strengths of this team but that's been far from the case. Part of it has been injuries as the team just welcomed back Jason Peters in Week 11 only to lose Lane Johnson in the same game.
Carson Wentz has been sacked 25 times
Yes, he sometimes holds the ball too long or tries to make something out of nothing. However, the front five have been inconsistent. At times, they're paving the way for the running game and at times, they can't create any lanes whatsoever.
At times, they give Carson Wentz all the time he needs to make decisions and at times, he's facing pressure in his face right from the snap.
This isn't the worst unit in the NFL and injuries have factored, but they're in the middle of the pack and that's a far cry from where they were expected to be.
Take it away Baldy…
"You're on the two-yard line, you brought in Andre Dillard, two tight ends, can you just run a simple combo block? This is not how you run a combo block, this is just awful. This is unacceptable."
.@Patriots @eagles just whipped the #Birds at the LOS. This is so hard to watch and it's not how they are coached. #BaldysBreakdowns pic.twitter.com/ukKzBuYAUq

— Brian Baldinger (@BaldyNFL) November 18, 2019
"This is terrible right here, between Big V and Brooks… Everybody is lower on the Patriots, that's what's called being physical."
.@patriots v @eagles on first play of 3rd QTR. No need to watch anymore of this. #Patriots whipped the #Birds at the LOS. #BaldysBreakdowns pic.twitter.com/z85MJfBSAZ

— Brian Baldinger (@BaldyNFL) November 18, 2019
---
Head-Scratching Play Calls
A bigger problem, which somewhat goes hand-in-hand with No. 3 on this list, is the play-calling. It's a bit of an Andy Reid-Doug Pederson thing to fall in love with the pass.
Sure, it's a passing league but the Eagles don't commit to the run very often – at least often enough to make opponents respect it as a serious threat.
In the three aforementioned wins – versus the Packers, Bears and Bills – the Eagles ran the ball a total of 109 times. That boils down to 36.3 times per game.
However, in their other seven contests, they've run the ball just 182 times, which boils down to 26.0 times per game. Of course, game flow, whether the Eagles are ahead or behind, or whether the running game is even working that day play a factor.
However, we can see a clear pattern that the Eagles are more effective when they can run the ball.
Beyond that, the play-calling hasn't necessarily been to the strengths of Carson Wentz. They could use more screens and rollouts, and maybe get him some better angles or away from the pressure a little bit.
---
Anti-Run Offense
The Eagles have the 11th-ranked rushing offense but you'll find very few numbers that are more misleading than that. The Eagles had 146 rushing yards against the Chicago Bears, 218 against the Bills and 176 against the Packers.
That means that nearly 50% of their entire season rushing total has come in three games. That means they're averaging a paltry 98.1 rushing yards per game in their other seven contests. In case you're wondering, that average would rank them 19th in the NFL.
The Eagles just aren't a team that's able to consistently line up and run the ball. As a result, it puts more of a burden on Carson Wentz and the passing game, and they're obviously struggling to deliver.
Eagles Secondary
Don't get me started.
---
Are The Eagles Still Good Enough To Make The Playoffs?
The question everyone is wondering right now is where do we go from here. The Eagles are still just a game out of first place in the NFC East and still have one more matchup with the team that's leading (the Dallas Cowboys).
The good news is that the Eagles have a relatively soft schedule coming up. They'll have to host the Seattle Seahawks (8-2) this week, who are off a bye, but then they'll face the Miami Dolphins, New York Giants, Washington Redskins, Dallas Cowboys and New York Giants to end the season.
That means they should get to nine wins and possibly 10 if they beat Dallas or Seattle.
At the same time, this team simply isn't good enough to compete with the best of the best in the playoffs. Assuming they get to 10 wins and sneak in, they're simply not a team you can really trust.
Could they beat someone like the Los Angeles Rams or maybe the Minnesota Vikings if they hosted a game in the Wild Card round?
Of course. However, this team isn't going to be making any run at the Super Bowl given the flaws across the board, but Wentz is not the reason for this team's downfall.
They need to make some serious improvements and those won't happen until the offseason.
This team's best-case scenario is making the playoffs and possibly winning one game, but even that feels optimistic at this point.