When it comes to Conor McGregor's next fight, there has been an endless amount of questions on when he will come back and who he will face. But, today we may have an answer to at least one of these questions…
Yeah, we all know the two latest rumors featuring hypothetical opponents including Justin Gaethje and Frankie Edgar, but this news comes to you straight from the Notorious One himself.
McGregor held a press conference early Wednesday in Russian as part of his brand ambassadorship with the sports betting firm Parimatch.
During this event, he decided to drop this bombshell…
"I would like to announce the return of 'The Notorious' Conor McGregor will take place on January 18th in the T-Mobile Arena in Las Vegas, Nevada," said McGregor.
But who will he be fighting?
Justin Gaethje? Frankie Edgar? Donald Cerrone? Paul Felder? Tony Ferguson? Someone else?
"As far as the opponent, I have the opponent's name, but for me and the game that I'm in, and from experience, if I was to give you people the name — which I would love to do — I know the UFC would flip it because they are a crafty company," McGregor said. "For me, here's this one, ask the UFC who the opponent is because I do not give a f*ck who the opponent is."
Hopefully, we find out soon, but anyone of these opponents would make for a hell of a battle in Conor McGregor's next fight.
However, it doesn't look like Dustin Poirier will be Conor McGregor's next fight as already stated during the presser that rematching someone he has already beaten convincingly doesn't appeal to him.
---
Here's the video:
Conor McGregor's next fight announced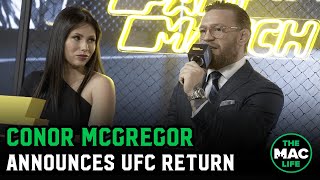 ---
Don't forget to claim your free bet bonuses and special offers before the Nate Diaz vs Jorge Masvidal fight.
All the offers below are 100% real from the top NJ online sportsbooks:
Rank
Sportsbook
Bonus
Features
Play