Jake Paul, the Mouth that Roars, has turned up the volume for FanDuel's New Jersey online sports bettors. His Sunday battle against Tyron Woodley in Cleveland prompted a new-user promo.
Jake Paul vs Tyron Woodley – FanDuel's Bet $5 Win $150 Promo
Here's how it works:
Sign up for FanDuel Sportsbook and make a deposit
Place your first bet on the Moneyline market for either Jake Paul or Tyron Woodley to win their fight on August 29, 2021
If your bet wins you will receive a site credit bonus equal to +3000 on the first $5 of your wager for a maximum possible bonus of $150
Bonus will be issued within 72 hours after the bet has settled
But in this promotion, both are +3000
This has become a signature FanDuel promotion, unfurled across several sports. Five gets you $150. But that might only be the intro into this fight.
This fight didn't just warrant a promo. It's on Showtime Pay Per View.
New Players get up to $3,000 bonus at FanDuel Sportsbook
1
Big Game Promo: Up to $3,000 No Sweat First Bet
Available on Desktop, Android & iOS

To Claim: Click Play Now

BET BEYOND THE BONUS
This is a no-risk proposition not only because of the substantial odds boost but because the event is loaded with bettable options. The board is not lopsided and there is the significant value associated with intellectual sharpshooting.
Locating the right knockout round or groups of them will pay handsomely.
Prop bets are interesting too. Jake Paul / Tyron Woodley have a full armada of them for this fight.
Given that it's Woodley's boxing debut, there is an overwhelming sentiment that this fight won't go the eight-round distance, even though he's waged 25-minute UFC fights before.
Here are some excellent payouts if you can nail the exact stoppage round.
Why Is Tyron Woodly The Betting Odds Underdog?
Paul's opponents have not been skilled defensively. They have walked right into loaded right hands and eventually been stopped. Woodley will be better than them.
Yet he's also in freefall, having not won a fight since 2018. He at least knows how to fight, remembers being a world champion and has been through 25-minute MMA battles. This is 24.
The difference here is that he must keep his hands up, with gloves on, the whole fight.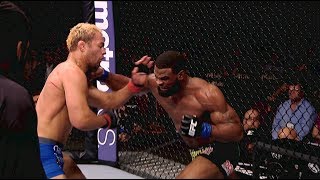 At age 39, he's on the downside of an MMA career in which Tyron Woodley has held the UFC welterweight championship. Woodley made five defenses.
But now he's lost his last four fight and hasn't even been in them. Time for one potential payday before calling it a career? Has he mailed it in?
"I think that he should start thinking about hanging it up," UFC President Dana White said about Woodley after he lost to Colby Covington for his third straight loss in September, 2020. "He's had a great career, he's had a great run."
Covington did not heed the advice and was stopped in one round by Vicente Luque in March of 2021.
Former champ turned opponent, Woodley is taking one more bite of the combat-world apple.
It's going to be interesting to see how this all plays out.
New Players get up to $3,000 bonus at FanDuel Sportsbook
1
Big Game Promo: Up to $3,000 No Sweat First Bet
Available on Desktop, Android & iOS

To Claim: Click Play Now

Jake Paul KO Prop Bets
Round 2 is +470
Round 3 is +700
Round 4 is +1500
Round 5 is +1800
Rounds 6-8 range between +2400 and +6500
Tyron Woodley KO Prop Bets
Round 1 is +1400
Rounds 2 and 3 are +1200
Round 4 is +1400
Round 5 is +1700
Rounds 6-8 range from +3000 to +5500
The numbers are tied in with another important betting line.
Fan Duel has the fight at +480 to go the distance and -1000 not to. With the strong expectation of a stoppage already there, bettors can try to whittle it down even more to catch the right stoppage round.
FanDuel introduced another nice prop here. It's knockout-rounds group betting. This is a sharp, beneficial betting option. Group rounds widen the chance of victory for a smaller, yet significant payout.
Paul in rounds 1 or 2, for instance, is +175. In rounds 3-4, it's +460. Rounds 5-6 is +1000 and Rounds 7-8 is +2300.
Bear a couple things in mind with these bets in this particular bout. Unlike MMA, boxing rounds are three minutes, not five. Paul has never been outside of two rounds in his career and this is Woodley's boxing debut.
New Players get up to $3,000 bonus at FanDuel Sportsbook
1
Big Game Promo: Up to $3,000 No Sweat First Bet
Available on Desktop, Android & iOS

To Claim: Click Play Now

Jake Paul Tyron Woodley BetMGM Betting Odds
Let's examine the extremes. Each fighter to win in the first or last round.
JAKE PAUL
To win in Round 8 is +3300
They are the extremes. Individual-round stoppages fall between those totals.
To win via points is +900
TYRON WOODLEY
Win by points +1000
A win in the first round is +1400
A win in round 8 is +1200
Jake Paul Tyron Woodley Caesars Betting Odds
Paul is -190
Woodley is +160
Paul to win by K0/TKO is -110
Woodley by K0/TKO is +138
The fight to go the distance:
The over-under on rounds is 3.5 with the over at -125 and the under is -110.
The range of knockout rounds for Paul is +600 in round 1 to + 4000 in Round 8.
The range of knockout rounds for Woodley is +1000 for Round 1 and +2800 for Round 8.
Jake Paul Tyron Woodley KO Range Bets
JAKE PAUL
Rounds 1-2 is +275
Rounds 3-4 is +333
Rounds 5-6 is +600
Rounds 7-8 is +1200
TYRON WOODLEY
Rounds 1-2 are +500
3-4 is +600
5-6 is +800
7-8 is +1400
This fight also has an intriguing backdrop.
Is Jake Paul For Real?
Paul is 3-0 as a professional fighter, with three knockouts. He stopped An Eson Gib, former NBA star Nate Robinson and Ben Askren in a total of four rounds.
Each of them revealed a little something about Paul's direction.
The matchup with Gib revealed a bizarre pre-fight trash-talk conference, in which each attacked each other's social media platforms. Paul has a reported 20.4 million YouTube followers.
He stopped Gib, who does not know how to fight, with three knockdowns in the first round.
Robinson, the NBA's first three-time slam-dunk champion in 2010, was slam-dunked himself by Paul, who stopped him in two.
Askren was stopped by a single punch in round one.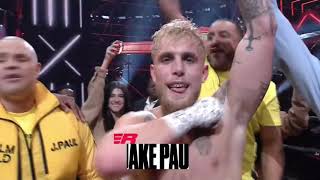 Is Paul a boxing dynamo? No, but against this early level of competition, he has crossed over from joke to no joke.
Paul enlists the training help of BJ Flores, who was an accomplished professional boxer. Flores was 34-4 with the only losses coming in world title fights.
J'Leon Love, a 24-3 professional boxer, also is in the camp.
Put that up against social media opponents and the difference is big.
Rising, young, social-media star learning boxing on the way up. And a fading former champ grasping for gold on the way down.