Zion Williamson was supposed to be the shoo-in to win the NBA's Rookie of the Year Award. However, as DraftKings Online Sportsbook has updated the lines this week, Williamson is now at +300 since he's already missed 25 games. But where is Phill fan-favorite, Matisse Thybulle?
Memphis Grizzlies guard Ja Morant is now favored while Williamson, Miami's Tyler Herro, and New York's R.J. Barrett are his key competition.
Let's take a closer look at the updated ROY odds, what NJ sports betting apps have the best numbers, and see who is the best bet:
Morant Is Now Favored
Memphis Grizzlies' point guard Ja Morant has looked like the real deal early on in his rookie season, which is why he's the clear-cut favorite to win the award.
His odds are down to +150 to win the NBA's Rookie of the Year award as his contributions have been notable. On the season, he's scoring 18.7 points per game while adding in 6.4 assists, 3.4 rebounds, 1.3 steals and 1.0 threes per game.
The issue for Morant is that the Grizzlies – even with his contributions – are not that good. They have just eight wins in their first 24 games this season, which puts them in the basement of the Western Conference.
The voters will definitely be dazzled by Morant's stats but if a player has similar numbers while playing for a team that's competing for the playoffs, they might get the edge over Morant.
---
Matisse Thybulle Odds to Win NBA Rookie of the Year
Philadelphia 76ers rookie, Matisse Thybulle, has been making quite a name for himself these last few weeks and even has put himself in the rookie of the year conversation.
Matisse Thybulle wasn't even in the conversation for NBA ROTY, but now sports experts can't stop talking about them. He may not be a ROTY favorite, but it could happen.
It will definitely be a longshot considering the number of minutes Matisse Thybulle plays vs the other rookies, but I'm rooting for him!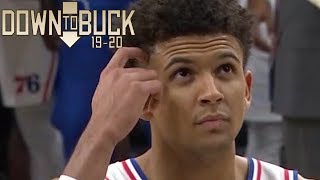 ---
Top 5 NBA Rookie Of The Year Odds – 2019
Zion Williamson's Odds to Win Rookie of the Year: (+125)

Zion Williamson's Opening Rookie of the Year Odds: (-150)

Ja Morant's Odds to Win Rookie of the Year: (+260)

Ja Morant's Opening Rookie of the Year Odds: (+400)

RJ Barrett's Odds to Win Rookie of the Year: (+450)

RJ Barrett's Opening Rookie of the Year Odds: (+550)

Rui Hachimura's Odds to Win Rookie of the Year: (+1100)

Rui Hachimura's Opening Rookie of the Year Odds: (+3000)

Tyler Herro's Odds to Win Rookie of the Year: (+1400)

Tyler Herro's Opening Rookie of the Year Odds: (+10000)
Rank
Sportsbook
Bonus
Features
Play
UP TO $1,050 FREE
New User Bonus. T&Cs Apply.
Olympics Special
Bet $1, Win $100 If U.S.A Wins a Medal

$50 Free Bet on Deposit

Up to $1,000 Deposit Bonus
To Claim: Click Play Now
Up to $5,000 Risk Free Bet
Weekly Betting Promos
Promo Code: LEGALRF
$600 Risk Free Bet
$10 Free Weekly Bet
Use Bonus Code: PLAYBONUS
---
Zion Has Been Forgotten
When the Rookie of the Year betting odds opened up, Zion Williamson was the heavy favorite to win the award. After all, he was the No. 1 pick in the 2019 NBA Draft and is supposed to be a generational talent.
The issue is that Williamson is hurt and has yet to even play a game. As of now, no target date has been established for his return. On top of that, the team has already stated that he won't play in back-to-back situations, so that means he'll miss even more contests.
As of Friday, Williamson has already missed 25 games. One would think that this all but eliminates him as he might only play about 40-45 games this season. However, he's on the board at +300, which is right behind Morant.
He might not be a great bet, though, as he'd have to be head-and-shoulders above everyone else if he played so little games. At this point, he's too much of a risk to bet on.
Does R.J. Barrett Have A Shot?
New York Knicks rookie R.J. Barrett is third in line in terms of the odds as he's on the board at +450. The issue with Barrett is that he's been in a little bit of a rut and his odds have taken a small dive as a result.
Barrett started the season like he was shot out of a cannon as he averaged 18.2 points per game with 6.4 rebounds, 3.0 assists, 1.6 steals and 1.6 threes per game in October.
He was shooting 47.4% from the field. However, that was just a small sample (four games) and he's cooled off ever since. Barrett averaged just 14.2 points per game in November as his field goal percentage dropped to 39.0%.
His numbers in almost every other category dropped too. December has been even worse as he's averaging just 11.0 points per game while shooting a paltry 30.9% from the field.
Of course, the Knicks are a disaster as their just 5-20 on the year and just ended their 10-game losing streak on Wednesday.
It doesn't help that the Knicks have already fired the only head coach that Barrett has worked with as David Fizdale was canned last week. Barrett has shown the potential but it just feels like the support system isn't there for him right now.
This is a bad team with a coaching staff that's in flux. He's not in the best position to turn his potential into production.
The Rest Of Field
The Miami Heat have a couple of rookies that might be worth betting. As mentioned, Morant is the current frontrunner but the Grizzlies are one of the worst teams in the NBA.
However, the Heat have vaulted up the standings in the Eastern Conference and are contending for the top spot thanks in part to a couple of rookies. That could get them into the conversation.
The Heat's first-round pick, Tyler Herro, has been instrumental in the team winning 18 of their first 24 games. He's scoring 13.9 points per game with 3.9 rebounds, 2.0 threes, and 2.0 assists.
He's had some issues with consistency, though, as evidenced by a couple of outings last week. He had 27 in the win over the Chicago Bulls on Sunday and then put up a big zero against the Atlanta Hawks on Tuesday.
A better bet might be one of the Heat's undrafted rookies: Kendrick Nunn. Nunn has come out of nowhere to be one of the team's key scorers, averaging 16.2 points per game with 3.4 assists, 2.7 rebounds, and 2.1 threes.
His scoring has tapered off a little bit as he averaged 22.4 points per game in October but was down to 14.1 in November and is at 15.7 in December. That December number is helped a lot by his 36-point effort against the Hawks on Tuesday.
Nunn is a scoring machine and quite a find for the Heat, who are now an Eastern Conference contender. Both Nunn and Herro are worth a look in terms of the NBA ROY odds as Herro is at +1600 and Nunn is at +1400.