To celebrate the upcoming Conor McGregor vs Donald Cerrone fight, I searched high and low for the 10 greatest fights that these two UFC superstars have been part of.
Claim Your $1,200 Bonus at DraftKings Sportsbook

Up to $1,200 BONUS
New User Bonus. T&Cs Apply.
DraftKings Promo: Bet $5 Win $150
PLUS $50 Bonus Bet On Deposit

PLUS Up to $1,000 Deposit Bonus

Gambling Problem? Call 1-800-GAMBLER 

To Claim: Click Play Now
---
5. McGregor vs Jose Aldo – 13 second KO
Don't blink, you may miss it. All it took was one punch for McGregor took to knock out the undefeated champ of 10 years.
---
4. McGregor vs Diaz 1 – "I'm not surprised!"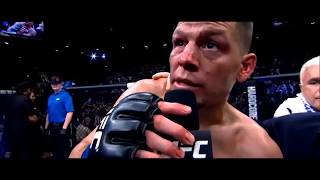 UFC 196 was one of the biggest turning points in the career of Conor McGregor and Nate Diaz. After Rafael Dos Anjos pulled out due to an injury, Nate Diaz then stepped up to take the fight on 11 days' notice and it was subsequently booked as a Welterweight fight.
Much to the surprise of the UFC fans, Diaz took Conor's best and he was the one left standing in the end. This was McGregor's first loss in the UFC.
---
3. Cerrone vs Story
In 2016, Donald Cerrone moved up to welterweight to fight Ricky Story at 202. Although he was the favorite, not many expected Cerrone to finish the durable Story. But he did finish him, and he finished him in spectacular fashion. It was one of greatest combinations in UFC history: jab, straight to the body, left hook then right high kick.
---
2. Cerrone vs Brown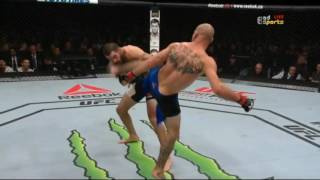 Cerrone vs Brown was a fun, technical scrap, with both men showing off their Kickboxing and Muay Thai skills respectively. In spite of the fact that it was fun to watch, it was clear that Cerrone was winning on the scorecards.
Cerrone took full advantage of his opponent's soft guard, firing a thunderous head kick which was heard all around the world. This knockout not only solidified him as one of the most dangerous men on the planet but handed him two new UFC records: most wins & and most finishes EVER in UFC history.
---
1. McGregor vs Alvarez
https://www.youtube.com/watch?v=Y_3C0VY_wsg
UFC 205 was the showdown between McGregor and Alvarez. It was the first UFC ever in New York at the Madison Square Garden and it's the night Conor McGregor became the first UFC fighter ever to hold two belts simultaneously.