Mike Tyson and Roy Jones Jr. have hit the major sportsbook big boards, with Tyson favored at roughly 2-1 for their eight-round exhibition bout Saturday from the Staples Center on pay-per-view.
Mike Tyson vs Roy Jones Jr.
As DraftKings finalizes its Mike Tyson vs Roy Jones Jr. odds presentation, here is what FanDuel listed on Wednesday:
Moneyline: Tyson -230, Jones +176.
Various NJ sports betting props to bet the exact knockout round range from +700 to +2000 for Tyson and +2800 to +4200 for Jones. A draw is +700.
How hard will they fight? That's a handicapping angle. The event constitutes eight two-minute rounds and while the California athletic commission hopes neither fighter seeks a knockout, the fighters have expressed their intent to go all out in order to sell it. If either fighter sustains a cut, the fight is over. They will both wear 12-oz gloves.
For gamblers, posting of odds at all becomes a victory. The fight was postponed from Sept. 12 to maximize potential revenues, listed as an exhibition with no judge and finally labeled as "sparring" by the state commission, which was understandably reluctant to sanction a battle between two men in their 50's.
Legend VS Legend
Mike Tyson vs Roy Jones Jr. is almost here! tBut it has gone forward and there will be a verdict between 54-year-old Tyson and 51-year-old Jones. And the battle of two former heavyweight champions, who thrived well before the online sports-betting age, will generate its share of action.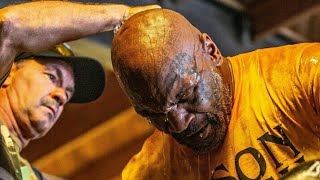 In a sign of the times, the undercard is highlighted by You Tuber Jake Paul against NBA Slam-Dunk champion Nate Robinson, Paul claims over 20 million You Tube followers, which exceeds the fact he can barely fight. The bout nonetheless generated attention within the sports community.
Robinson's former teammate Kendrick Perkins said he'll bet $1,000 on Robinson and implored others to do the same.
DraftKings has Paul at -200, Robinson at +150.
Tyson and Jones are superstars from another era cashing in on the new age.
"Once it was decided they were going to have a judge and there would be some type of result, we decided to have some fun with it," Johnny Avello, the director of race and sports book operations, told njbetting.com. "We have Tyson giving a couple of bucks (the vicinity of -200) and there will be more. You know us, we'll have something crazy," he laughed. "Props, will the fight go the distance, etc."
Tyson became the youngest heavyweight champion in history at 20 years and four months by stopping Trevor Berbick in two rounds in November 1986.
A couple of years later in Atlantic City, future President Donald Trump, then a casino owner, spent a record $12 million site fee to host Tyson's epic battle against Michael Spinks. It lasted less than one round, with Spinks counted out.
It was the first mega boxing event in the Atlantic City casino era, enabling Atlantic City to temporarily eclipse Las Vegas as the fight capital of the world.
Tyson 's patented left hook _ often set up by ducking an opponent's punch and obtaining position inside _ gave him rare one-punch mystique. He is one of the most intimidating fighters of all time.
His last bout was a loss to in 2005 to Kevin McBride.
Tyson gravitated to a prosperous boxing after-life. He appeared in the movie "Hangover", hosted a show on the Fox Network and became associated with charitable causes.
The more honest Tyson is regarding his life, the more popular he becomes. Videos of him being sculpted and ripping tremendous hooks began speculation about him fighting early this year. When he spoke, Tyson did not try to impress anyone.
"I was 90 pounds overweight, doing cocaine and drinking," he said, smiling. "Then I changed my whole life. I got married and began working out. I don't want anybody to think I'm getting rich off this or doing it for the money because I'm not. I'm just happy my life is not what it was before
He lately begun a widely-circulated podcast, in which he interviews fellow athletes. Tyson has become popular with UFC stars like Justin Gaethje and tweeted about the future heavyweight potential of Franics Ngannou.
Jones was one of the craftiest, most elusive and intelligent fighters of his era. He turned pro in 1989 and still waged bouts up until 2018, although he hasn't been the Jones we remember since the early 2000's.
Jones has been a commentator, promoter and trainer, enjoying the fruits of a successful professional career.
Between 1993 and 2003, Jones had a remarkable run. He won the middleweight, super-middleweight, light-heavyweight and heavyweight championships.
He fought as recently as 2018. And although Jones has not been fighting top opposition, he has been fighting.
"I've 've been trying to enjoy retirement, but people don't seem to want to let me retire," Jones said. "They keep calling me, telling me that Mike wants to come back, and that you'd be a great opponent for Mike.

"We always wanted to see it, but I would've preferred it back then. Tyson is a hell of a specimen still. Still a problem to deal with. But at the same time, life is life, you only live once. You want to know what it's like, you go in there and see.

"He better get it right away," Jones said of Tyson trying for a knockout, "or he is going to be in trouble".
When the bout was shortened from three-minute rounds to two, Jones said he believed this would enable Tyson to apply more pressure.
There is an interesting overview to this event. Purists simply want to see Tyson and Jones. Bettors want to profit from it.
Tyson wants to engage in a few more exhibitions. It's easy money. The question will be whether Tyson and Jones can make fans, and bettors, want more.