As the COVID-19 pandemic appears to have peaked in the United States, we're now starting to get some reports as to how the major sports will return. We have two major sports (NBA and NHL) that went on a hiatus right as their regular seasons were winding down and we have one other league which didn't even get started (MLB).
Claim Your $1,250 Bonus at DraftKings Sportsbook

Up to $1,250 BONUS
New User Bonus. T&Cs Apply
DraftKings Promo: Bet $5 Get $200
PLUS $50 Bonus Bet On Deposit

PLUS Up to $1,000 Deposit Bonus
PLUS a Daily No Sweat Same Game Parlay
Gambling Problem? Call 1-800-GAMBLER

To Claim: Click Play Now
With the NHL, the big challenge for them has been figuring out how to play out the season while also not interfering with the offseason and the start of the 2020-21 campaign.
On Monday, we finally got some details from NHL Commissioner Gary Bettman as he revealed that puck drop will come in late July or August. In terms of the format, here's what it will look like.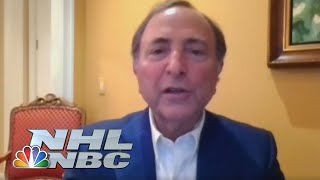 NHL Playoff Format Will Look Like
The NHL has announced that they plan to go straight to the postseason upon returning but to have a modified playoff format. Normally, just 16 teams make the playoffs but now we're going to see 24 teams in the tournament.
The top four seeds in each conference will get "bye" in the first round. These are the top four teams in each conference as per their standings (points percentage) when the league paused on March 12th. "Bye" is in quotes because they actually won't just sit and rest because at this point, who needs it?
What they're going to do is have some kind of round-robin tournament or set of games so that they can knock off the rust.
While that's happening, the other teams seeded five through 12 will play in a best-of-five playoff series to determine who moves on.
In terms of the locations, we're still trying to sort that out. It appears that the league will use two "hub" cities, so we'll probably see Western Conference teams at one site and Eastern Conference teams at another.
There are still eight or nine locations under consideration with Las Vegas expected to be a top choice. Regardless of where the games are played, fans won't be allowed into the stadiums for now.
In terms of when this all gets underway, the Bettman stated that the earliest the puck-drop would happen is in late July or early August. They are hoping that training camps can start in June but all of the dates are still fluid as of right now.
Playoff Seedings
The playoff seedings and matchups would look like this:
Eastern Conference – 1st Round Bye
Boston Bruins
Tampa Bay Lightning
Washington Capitals
Philadelphia Flyers
Series Matchups
No. 5. Pittsburgh Penguins vs No. 12 Montreal Canadiens
No. 6 Carolina Hurricanes vs No. 11 New York Rangers
No. 7 New York Islanders vs No. 10 Florida Panthers
No. 8 Toronto Maple Leafs vs No. 9 Columbus Blue Jackets
Western Conference – 1st Round Bye
St. Louis Blues
Colorado Avalanche
Vegas Golden Knights
Dallas Stars
Series Matchups
No. 5. Edmonton Oilers vs No. 12 Chicago Blackhawks
No. 6 Nashville Predators vs No. 11 Arizona Coyotes
No. 7 Vancouver Canucks vs No. 10 Minnesota Wild
No. 8 Calgary Flames vs No. 9 Winnipeg Jets
Updated Stanley Cup Futures
Now that we know the format, we can take a look at the updated Stanley Cup futures. Not all sportsbooks in New Jersey have re-hung the lines as of yet as there is some concern over where the games are played.
However, FanDuel Sportsbook has re-posted the lines and here's what we're looking at:
Odds To Win Stanley Cup
Tampa Bay Lightning +600
Colorado Avalanche +750
Washington Capitals +900
St. Louis Blues +1000
Dallas Stars +1500
Pittsburgh Penguins +2000
New Players get up to $200 in Bonus Bets at FanDuel Sportsbook
Up to $200 in Bonus Bets
Available on Desktop, Android & iOS

To Claim: Click Play Now

For a full list of the teams, you can visit FanDuel Sportsbook but those are the odds of the teams at 20/1 or shorter. The odds will differ from sportsbook to sportsbook slightly. For example, Caesars actually the Bruins, Lightning, and Avalanche all at +600.
Play-In Series Prices
We already have some play-in series prices courtesy of Caesars but they're one of the few in the Garden State to have these odds up. Here's what they look like:
Montreal Canadiens (+165) vs. Pittsburgh Penguins (-185)
New York Rangers (+120) vs. Carolina Hurricanes (-140)
Florida Panthers (-125) vs. New York Islanders (+105)
Columbus Blue Jackets (+145) vs. Toronto Maple Leafs (-165)
Chicago Blackhawks (+115) vs. Edmonton Oilers (-135)
Arizona Coyotes (+115) vs. Nashville Predators (-135)
Minnesota Wild (+110) vs. Vancouver Canucks (-130)
Winnipeg Jets (-110) vs. Calgary Flames (-110)
Handicapping The Stanley Cup Odds
The main thing that everyone wants to see right now is where the games will be played.
The Golden Knights were already a popular bet to win the Cup because they have a pretty good team but when you factor in that the games might be played in Las Vegas, that could give them an edge. Everyone else might become de facto road teams.
Speaking of road teams, if you're handicapping the playoffs – either for the series or to win the Cup – you might want to examine road records to see who fares the best when away. After all, pretty much all of the games will be away games.
The Avalanche have the league's best road record at 24-11-2 while the Capitals are next-best at 23-10-3 with the Bruins closely trailing at 22-10-3.
The Canucks would be the worst road team in the playoffs as they are 14-18-2 in road games followed by the Wild, who are 16-16-2.
Keep in mind that the hiatus has helped teams get healthy, which clearly would have put some teams at a disadvantage otherwise.
For example, Steven Stamkos of the Tampa Bay Lightning has finally recovered from his core muscle surgery. He would have been a question mark in the playoffs had there been no pause.
The Avalanche are likely the biggest beneficiaries as they're fully healthy now.
Prior to the pause, Nathan MacKinnon, Nazem Kadri, Phillip Grubauer, Mikko Rantanen, Joonas Donskoi, Andre Burakovsky, Matt Calvert, and Colin Wilson were all on injured reserve.