There's a lot of excitement and expectations surrounding the Philadelphia 76ers this season. From the new Ben Simmons jump shot, to and the lean-and-mean Joel Embiid.
After Kawhi Leonard ended the Sixers season in the 2019 Eastern Conference Semifinals with a heart-stopping, buzzer-beater, the team reloaded and looked poised to contend for the crown.
Claim Your $1,050 Bonus at DraftKings Sportsbook

Up to $1,050 FREE
New User Bonus. T&Cs Apply.
UFC 276 Optin Promo: Bet $5, Get $100

PLUS $50 Free On Deposit

PLUS Up to $1,000 Deposit Bonus

To Claim: Click Play Now
The Sixers are top five in NJ online sports betting prices to win the NBA title and second choice behind Milwaukee to take the East. They've added Josh Richardson to supplant the scoring lost by Jimmy Butler, along with Al Horford to fill the middle and spell Embiid.
The Sixers had their media day Monday in Camden before starting their training camp. Here are some of the big takeaways:
Sixers Starting 5 is better than ever
Tobias Harris said he spent the offseason working on his lateral quickness and his defense. He is one of the league's most efficient offensive players so improving on the defensive end would make him elite.
This is a BIG lineup, with Richardson the shortest at 6'6″. Simmons and Richardson in the backcourt, with Harris joining Embiid and Horford upfront. The length of this team will certainly limit opponents' inside game and could create an unstoppable offense.
Big year for Simmons
Harris and Simmons spent the summer working out together in SoCal. Simmons had a strong season, made the All-Star game, but showed weakness in his game without the confidence to shoot from outside.
"He's a gym rat," said Harris of Simmons. "I've seen a lot of growth in him, not just on the floor but off the floor as well." Fans on Twitter have been swooning over footage of the new Simmons jump shot – him pulling up Js and stroking threes in pickup games.
Simmons entered the league after one year of college, like Embiid and many young stars. Usually, players like Magic and MJ would develop their overall games in three or four years of NCAA action. The new NBA has a new timetable for stars.
Simmons has the max contract extension and the expectations it carries. He's no longer with Kendall Jenner, so he's (hopefully) able to focus on his craft and proving naysayers wrong.
Is this new Ben Simmons jump shot the real deal? We'll have to wait and see.
More durability for Embiid
Embiid has struggled to stay healthy in his regular and postseason career. Against the Raptors, he wasn't at his best for key games like 4 and 5.
Embiid got engaged during the offseason and has also altered his diet. His goal is to play 70 or more games in 2019-20. Having Al Horford to spell him late in games will help.
Embiid needs to be more effective this year guarding top big men, especially Giannis. If the Sixers and Bucks face off in the playoffs, the Greek Freak could dominate the series.
Mike Scott won't fight anymore Eagles fans
Mike Scott is one of the most popular role players in Philly since Shjon Podein. However, the Hive got rattled when the 3-point specialist got into a brouhaha at the Linc's parking lots with Eagles fans before the season opener.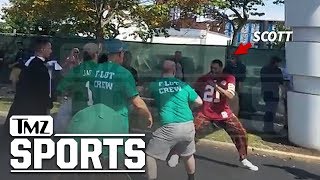 Scott should've known better to wear Skins' burgundy in enemy territory. He also should've known better to walk away, and he knows that.