Ever since NJ sports betting has become legal, it has exploded. Here are the best NJ sports betting tips to help you learn about the who, what, when, where & why of sports betting in NJ.
Claim Your $1,250 Bonus at DraftKings Sportsbook

Up to $1,250 BONUS
New User Bonus. T&Cs Apply
DraftKings Promo: Bet $5 Get $200
PLUS $50 Bonus Bet On Deposit

PLUS Up to $1,000 Deposit Bonus
PLUS a Daily No Sweat Same Game Parlay
Gambling Problem? Call 1-800-GAMBLER

To Claim: Click Play Now
Betting Odds Explained
If you are new to sports betting, we're going to help you understand how to read betting odds. Many people don't know how to read or calculate betting odds, so we're here to explain everything you need to know.
Favorites vs Underdog Bets
How can you determine who's the favorite and who's the underdog in sports betting, and which one is the better bet?
NJ Sports Betting Tips – FAVORITES
Favorites can be recognized in a few different ways, depending on the type of bet you're making.
For example, in point spread wagers, the favorite will have the 'minus' symbol next to it, meaning the amount of points they are giving to their opponent (e.g. -2.5). Money line bets are similar but instead of points the minus symbol is in front of the actual betting odds (e.g. -300).
Betting on the favorite, means choosing to go with the team or individual that is expected to win. While this is not always the quickest way to big money, betting the favorites is low risk, low reward. Yes, it's the safe move, but it's not always the best bet to make.
NJ Sportsbooks are masters at creating odds, making it very difficult to make good money betting on the obvious favorites.
You will most likely have to put up big time money just to win a few extra dollars. So, in the long run your profits aren't going to be that substantial unless you have a large bank roll to invest. (e.g. as -500 favorite using moneyline odds, you need to put up $500 to win $100)
So as you can see it only takes just one big, bad bet on a heavy favorite to set you back quite a bit.
NJ Sports Betting Tips – UNDERDOG
Like favorites, the underdog can be recognized depending on the type of bet you're making. But underdogs are usually represented with a 'plus' sign before the points and/or odds. For example:
Point Spread Underdog would be +2.5
Moneyline Underdog odds would be +300
Everyone likes an underdog story, but not many have the guts to bet on them. That's why unlike betting the favorites, betting on the underdog is a much more financially rewarding when successful. Since betting the underdog is high risk, high reward… it takes a lot more experience to be successful going for this type of bet.
How to Read A Point Spread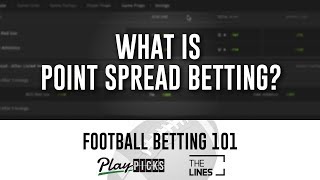 The point spread is a bet in which the sportsbooks establish margins of victory that the teams must "cover" in order to be considered a sports betting winner. Also known as… "betting the spread".
Here is an example of what a point spread line might look like for an NFL game:
Baltimore Ravens (-2.5) vs. Pittsburgh Steelers (+2.5)
In this hypothetical AFC North showdown, the -2.5 and +2.5 are the points spreads, and as you can see from the plus and minus symbols, oddsmakers are predicting Baltimore to beat Pittsburgh by 2 or 3 points.
The -2.5 indicates

Baltimore will need to win the game by three points or more in order to "Cover" the spread.

The +2.5

means that if Pittsburgh wins outright or loses by two points or less, then Baltimore didn't cover and this is your winning point spread bet.
In addition to NFL betting in NJ, point spreads are also very popular when it comes to wagering on NBA games as well.
Understanding the types of bets
There are plenty of different sports betting options out there. While different sportsbooks will offer different sets of wager options, lines and betting odds, the majority of sports betting outlets can be relied on for the staples. Here are NJ sports betting tips that breakdown the most popular sports betting options.
Over-Under Bets (Totals)
Proposition Betting
Point Spreads
Moneyline Wagers
Futures Betting
Betting on Parlays
Betting on Teasers
Over-Under Bets (Totals or Total Points)
Betting on totals, which are also referred to as "Over/Under bets", is one of the most popular wager options out there.
Unlike most sports betting options that require you to pick one team to beat the other either straight up or on the point spread, it really doesn't matter which team wins when you bet on the numbers of total points. All that matters when playing the Over/Under is how many points/goals the teams combine to score.
For example, when betting the total of an NFL game, you might see something that looks like this:
The Total is: 52
In this scenario, the total for a matchup between the Chiefs and the Raiders has been set at 52 points. When betting on the total for this contest, you are basically attempting to predict whether the teams will combine to score more or less than 52 points.
If you think they will score 53 points or more, then you would take the "Over"

If you think they will score 51 points or fewer, then you would take the "Under"
The majority of total bets are listed with -110 odds on both sides, although that can vary depending on the matchup and the sportsbooks that you wager with. This means that you would need to risk $110 to win $100 betting the total in most situations. (But we'll get more into pricing and odds down the page a bit)
Proposition Betting (Prop Bet)
Another popular betting option is the proposition wager, which has really taken off in gambling circles in recent years.
Prop bets are essentially any type of wager that focuses on a specific aspect of the game independent of the final score as a determining result. These types of wagers can focus on either player performances or team performances.
NFL Super Bowl props are a big hit every year.
Game Prop Bets
Potential examples of GAME PROPS:
Player Props or Individual Prop Bets
A hypothetical example of a PLAYER PROP would look something like this:
Total Rushing Yards: Prop Bet at 69.5
In this scenario, you could bet on the number of rushing yards that running back Le'Veon Bell will register in the game.
If you think Bell will run for 70 yards or more, then you would take the "Over" on this prop bet.

I

f you think Bell will run for 69 yards or fewer, then you would take the "Under" on this prop bet.
The odds for this type of wager will waiver depending on how safe or risky the bet is.
Other potential individual performance prop bets could include anything from:
The number of touchdown passes Aaron Rodgers throws

To the number of receptions wide receiver, Alshon Jeffreys will catch
Team Prop Bets:
Potential examples of TEAM PROPS:
Money Line Wagers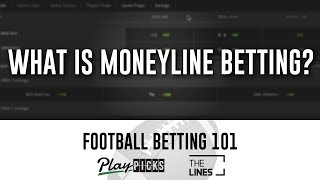 The money line wager is one of the most popular types of betting options, which might have something to do with the fact that it is also the simplest. When it comes to betting the money line, all you need to worry about is picking which side will win and understanding the betting odds.
Here is an example of what a money line wager might look like for an NHL game:
Montreal Canadiens (+140) vs. Toronto Maple Leafs (-150)
In this hypothetical scenario, Toronto is listed as the sports betting favorite to beat the Canadiens in a rivalry game. The "-" symbol that precedes the number listed next to the Maple Leafs indicates that they are the sports betting favorite.
At -150 odds, you would need to bet $150 to win $100 betting on Toronto to win outright.
Meanwhile, Montreal is the sports betting underdog in this matchup, as indicated by the "+" symbol.
Since they are listed at +140 odds, you could bet $100 on the Canadiens to win $140.
Money line odds can vary depending on the sport. They are the most popular when it comes to NHL and MLB games, while usually taking a backseat to the point spreads when it comes to NFL and NBA games.
Futures Betting
Whenever you see a sports betting option in which you could bet on a result that won't be determined for a significant amount of time, that is considered a futures bet.
Champion Future Bets
Golden State Warriors: To Win NBA Championship: +1600
In this example, the Warriors are listed at +1600 odds to win an NBA championship. This means that if you put $100 down on the Warriors to win it all, you could cash out $1600 if they actually go on to win the title.
Also, you can't cancel it at any point once it's locked in, including if the Warriors are hit by injuries throughout the season.
Win Total Future Bets
Los Angeles Lakers: Season Win Total: 54.5 (-110)
With this scenario, the Lakers season win total has been set at 54.5.
This means that if Los Angeles posts 55 wins or more, then the "Over" hits.

If the Lakers post 54 wins or fewer, then the "Under" would hit.
With these types of wagers, the betting odds are usually listed at -110 odds or something close to it depending on the sportsbook.
Betting On Parlays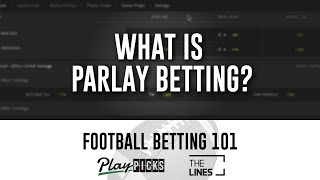 Understanding parlay bets isn't very difficult at all. Any time that you put two or more wagers together on the same betting ticket, it's considered a parlay.
Depending on the sport, you could usually bet anywhere between two and 12 teams on the same parlay ticket. These bet types could vary between money line, point spread and totals on the same ticket.
Also, you could build parlays that extend over different sports, with picks for the NFL, NBA, MLB and NHL on the same ticket. Remember, you have to win all the bets on your parlay ticket or you get nothing. Parlays are high risk, high reward for a reason.
Here is a look at what a parlay ticket might look like with NFL, MLB and NCAA wagers one one parlay ticket:
Betting On Teasers
The final betting type we will look at here is the teaser bet. This wager allows you to manipulate point spreads at a cost in order to gain an advantage on the point spread.
Essentially, in exchange for a slightly smaller potential payout you could buy points to apply to the point spread while building a parlay ticket that is specifically called a teaser. Here is an example of what an NFL teaser might look like as a point spread and then after applying the tease.
Indianapolis Colts -1.5 vs. Jacksonville Jaguars
New England Patriots -8.5 vs. Buffalo Bills
Baltimore Ravens -2.5 vs. Pittsburgh Steelers
Apply A 7-Point Tease And The Lines Become…
Indianapolis Colts +5.5 vs. Jacksonville Jaguars
New England Patriots -1.5 vs. Buffalo Bills
Baltimore Ravens +4.5 vs. Pittsburgh Steelers
As we can see above, the lines move across the board once the seven-point tease is applied. In this example, the Colts move from -1.5 to +5.5, the Patriots move from -8.5 to -1.5 and the Ravens move from -2.5 to +4.5. In exchange for buying the seven points, the potential payout for this teaser ticket will be smaller than if you just bet these teams on a regular point spread parlay.
However, that is definitely worth it when you move the Patriots past the two key numbers as a favorite while you move both the Colts and Ravens from giving up points to gaining more than a field goal each. Teaser bets are really popular when it comes to betting on the NFL and NBA. If you are looking to gain a slight edge on the sports betting lines while also making a decent profit, make sure that you consider trying out the teaser option.
Live Betting (In-Game Bets)
One of the most popular ways to bet on sports these days is through live betting. Sportsbooks like FanDuel and DraftKings have outstanding live betting products, which really takes the action to another level.
Live betting allows you to bet on the games even after the action has gotten underway. For example, with football, you'll be able to place a bet even after kickoff. After each play, first down and score, the betting lines will be adjusted. You can place your bet at any point as long as it's not during the play.
One of the reasons why this is so useful is because it allows you to watch some of the game before making your decision. For example, if you're not sure which team will win the game, you might not want to bet pre-game. However, if you watch a quarter of action and see how the game is unfolding, you can use that evidence to make a decision.
Live betting is also a useful tool for hedging your bets. For example, you might make a bet on a game before it's started thinking that your team will win. However, if you're watching the game and they're not performing as you expected, you can actually bet on the other side. This type of hedging will allowing you to get back some of your losses rather than losing your entire bet.
NJ Sports Betting Tips
Now that you have a basic understanding of what's available to you in terms of sports betting and how to read the lines, we want to give you a few NJ sports betting tips on how to be successful. Follow these three steps to improve your chances of winning in the long run:
1. Have A Budget In Mind
When it comes to betting on sports, you want to have a budget. Remember that this is a form of entertainment, so you want to go in with an amount of money you're comfortable losing and still being fine with.
Beyond just the budget of how much you're going to play with, you also want to have a system for how much you're going to bet on each game. For example, let's say your bank roll is $1000. If you bet $500 per game, a two-game losing streak would clean you out.
What most bettors do is bet about 1%-5% per game. In this case, if you have a $1000 betting account, you'd want to bet around $10-$50 per game. If you have plays you feel stronger about, you bet $50 and plays you're less confident in, you bet $10.
Whatever the system may be, have a plan and stick to it. If you're just betting random amounts each game, you're less likely to succeed in the long run.
2. Remove Emotion From The Equation
One of the most important aspects of succeeding here is to remove emotion from the equation. Of course, that's really tricky to do but that's quite critical.
Bettors who operate on emotion tend to go on bigger losing streaks. For example, if you happen to lose a bet in the early games on Sunday, an emotional bettor might double-up on the afternoon games as they try to make their money back. Sure, that could work but often times, decisions that are based in emotions are not the most logical ones.
Emotions will come into play many times in sports betting as you might lose a bet on the last play, you might get screwed by the refs or some weird bounce might not go your way. Keep your cool and stay focused on the big prize. If emotions take you over, your bottom line will be impacted.
3. Make Decisions Based On Data
One of the best parts of sports betting in the modern day is that there are so many places where you can get good information. 25 years ago, you'd have to read through newspapers and catch ESPN SportsCenter to gather your intel. Nowadays, there are literally thousands of sites on the internet that can provide game previews, advanced stats, NJ sports betting tips and much more. Then you can go on YouTube and get even more picks, previews and analysis for every sporting event.
When you add it all up, this allows sports bettors to make very informed decisions. That's exactly what you want to do.
Start by reading basic game previews, then scan injury reports, double-check momentum and examine NJ sports betting tips & trends. All of these data points will help you make a better decision when you're placing your bets. The more informed your decisions are, the more money you'll make in the long run.
Best NJ Sports Betting Apps 2023
Top NJ online sportsbooks, with the best and most current bonus offers, promo codes, free bets and more…
Rank
Sportsbooks
Bonus
Features
Play