One of the keys to being successful in Texas Hold'em Poker is to get a feel for what's coming next. Whether it's evaluating what the competition is thinking or estimating what cards are coming up, strong instincts give players an edge. While some players have a good feel for the game, Troy Clogston might be on another level.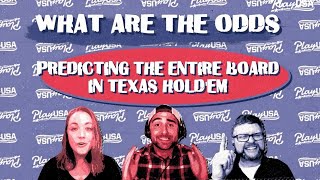 Playing at the Lone Star Poker event, Clogston forecasted an entire hand. He started off with a pair of Jacks and before the flop came, he predicted everything that would turn up.
Out loud, he said that it would be an eight, a nine, and a 10, and that's what the dealer showed.
As if that wasn't crazy enough, he predicted a four of spades on the turn and a two of hearts on the river, and that's what came out.
Imagine being his competition at that point? You might as well just give up.
Clogston is a veteran on the poker tour and has some decent finishes under his belt.
He finished fifth at the $260 No-Limit Hold'em (Six-Max) $50K GTD in 2019 at the 2019 Goliath Phamous Poker Series and picked up $9,500 in winnings. He also finished second at the $365 No-Limit Hold'em in the 2018 Dog Days of Summer and won $4,755.