Look beyond the chalk to find value. That's what the odds board at DraftKings and FanDuel sportsbook suggest for UFC 247 Saturday night in Houston, when pound-for-pound king Jon Jones defends his light heavyweight title against fourth-ranked challenger Dominick Reyes.
Bet $1 Win $100 + Up to $1,050 Bonus
UP TO $1,050 FREE
New User Bonus. T&Cs Apply.
Basketball Special Bet $1, Win $100 (Excluding TN)
$50 Free Bet on Deposit

Up to $1,000 Deposit Bonus
To Claim: Click Play Now

Jones is considerably more than a 4-1 favorite, prompting his backers either to leverage big money for a small victory if they think it's a sure thing or to scour the prop menu for an opening.
Reyes bettors, meanwhile, find excellent value.
Jones: Fights Have Been Going Longer
Jones has been consistently methodical in UFC, but has not enjoyed one of those pulverizing performances people talk about in some time. He has won six of his last eight by decision and his last effort, against Thiago Santos in July, was a split decision.
The odds here reflect his dominance and effective use of his height, reach and good positioning in ground battles. He holds a formidable seven-inch reach advantage over Reyes.
Looking For the Money
The beauty of prop betting is the elimination of the phrase "foregone conclusion" in a lopsided fight.
In the pre-prop age, this was not a bettable fight for Jones backers. But now they can try and collect by hitting a bull's eye.
Any Jones knockout or disqualification returns +105 at DraftKings.
The fight to go the distance is +135 or -182
Suggesting Jones controlling the action but Reyes perhaps extending it to the deeper parts of the fight.
In the rounds-betting realm, one can obtain odds between 4-1 and 9-1 by selecting the exact round the fight concludes.
Jones is +175 to obtain a decision and his knockout rounds range from +350 to +1200.

A reasonable hedge for backers of a Jones knockout is to string a couple of rounds together, accepting a smaller payout for a larger shot at victory.

Reyes victory payouts range from 11-1 via decision

To a knockout-technical knockout or disqualification spread from 16-1 to 40-1 in rounds 1-5.

A Reyes submission is the longest shot on the board at 110-1.
Intangible: Jones is an excellent ground fighter. Will he try to win it there?
Reyes is a UFC upstart, debuting in 2017.
He comes off a one-round victory over Chris Weidman in October, dropping Weidman with a counter left hand and landing the finishing strikes while he stood over Weidman, who was thrashing about trying to ward off the attack.
Intangible: Can Reyes step up to this level at UFC 247?
Jones: Where Are the Rivals?
Jones finds himself in a promotional conundrum. There are no natural big-money opponents for him in the light-heavyweight division.
He subsequently eyes a move up to the heavyweight division to face champion Stipe Miocic.
At the same time, some promotional juice has been coming from one division below him, where middleweight champion Israel Adesanya has called him out.
Adesanya has gone as far as saying he'll jump the light-heavyweight division and chase Jones up to the heavyweight class, but that's stretching market realism. Where is the appeal of two fighters moving up in weight, especially if one of them jumps two weight classes?
Nonetheless, Jones enjoys the banter of two athletes, each claiming the other won't fight him while hoping they eventually meet.
"It's good social media fun," he says. "I think people like to see the chirping."
Wagering UFC 247 "Bullets" at FanDuel
UFC 247 odds are screaming "decision" when Valentina "Bullet" Shevchenko opposes Katlyn Chookagian in the co-main event for the women's flyweight title.
Shevchenko, the champ, is -950 to win and -140 on points according to FanDuel.
With only seven knockouts in 36 fights between these combatants, the decision line reflects their career-long track record.
Those thinking outside the box can get a Shevchenko knockout or TKO at +390

And a Chookagian win by that method at 21-1

A submission is worth +430 for Shevchenko and 33-1 for Chookagian.
Fight Night 263 Main Event Special Win $150
Fight Night 263 Main Event Special
Bet $5, Win $150 or $1,000 Risk Free

Available on Desktop, Android & iOS
To Claim: Click Play Now

New bettors to UFC: for wagering purposes, a submission is not a TKO, even though it has the same net effect. Submission is a separate category and may also be mixed with other props.
An opposite dynamic unfolds with Juan Adams, 5-2 with five knockouts and Justin Tafa, 3-1 with three knockouts, waging a heavyweight bout.
When these guys win, they win big. All knockouts, all the time.
Trying to cherry-pick a knockout round at UFC 247 might be fun in this fight but only the line of Adams -260 and Tafa +210 was on the board early in the week. These competitors may not have enough of a sample for oddsmakers to make a confident forecast. Or they may feel the public has no inkling.
In the featherweight division, Mirsad Bektic is -138 as he battles Dan Ige, +118, in a good betting fight.
Bektic backers don't have to lay too much and Ige followers believe he has a good chance.

They are similar fighters with Bektic 13-2 with six knockouts and Ige 12-2 with three.
Embers of UFC 246 – The Inconvenient Marriage
Commentators Joe Rogan and Stephen A Smith launched a recent war of words after Conor McGregor's 40-second triumph over Donald Cerrone in UFC 246.
After Smith accused Donald Cerrone of quitting, Rogan bashed Smith for not knowing the sport.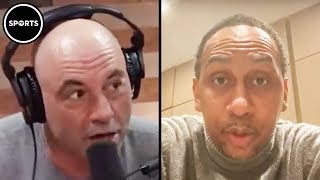 This is the fallout from

ESPN's five-year, $1.5 billion pact to stream UFC fights on ESPN+ and show bouts on its cable channels.

That agreement allows ESPN to carry 30 Fight Night events a year, with 20 streaming on ESPN+ and 10 broadcasts on its TV networks, according to ESPN.

The company has agreed to extend that deal by two years in addition to signing the pay-per-view deal.
That brings money to UFC, but also outside influence. Rogan represents loyal UFC backers who don't want critical opinions coming from someone not anointed by them.
Smith, of ESPN, represents a larger-than-life, in-your-face personality but his nuts-and-bolts knowledge of combat sports, boxing included, is limited.
As a journalist, he was correct that Cerrone disappointed and not incorrect about refusing to consider the bout a McGregor coronation. It's a shame, given the high-profile nature of the fight, that Cerrone did not perform better.
But in light of Cerrone's gushing blood, broken nose and orbital bone, Smith did not grasp the sudden-end possibility of MMA bouts. That's part of the landscape.
Even McGregor said Smith was being disrespectful and demanded an apology to Cerrone and Rogan…
McGregor didn't let Cerrone into the fight and Cerrone, who previously lost two straight, had already been fading. The ending didn't look good, but this is why UFC presents an hours-long fight card. Don't like this bout? We may have nine more.
ESPN should use a more knowledgeable MMA broadcaster in its main telecast and throw to Smith for rants, complaints and opinions.
Smith has been accused of not doing his homework for some of his boxing assignments and would be best used to convey the emotions surrounding the event than be projected as an MMA expert. The Rogan-Smith pairing is not ideal.
Fortunately for bettors, this is only a sideshow.