William Hill Sportsbook Review 2022
William Hill is one of the best-known sportsbook brands in the world. Now that sports betting is legal in the state of New Jersey, William Hill has set up shop.
For those who aren't familiar with the brand, William Hill has one of the best reputations among sports betting operators. Based in the United Kingdom, they've been in business since 1934. That means they have almost 70 years more experience in this game than some of the newer operators like FanDuel and DraftKings.
William Hill is a publicly-traded company, which means that they have to answer to a board and shareholders. That also means they are constantly focused on how to improve their product, grow it, and elevate the customer experience.
To illustrate just how big they are, the company has nearly 17,000 employees and 2300 physical shops around the world where you can walk in and place bets.
CLAIM YOUR $1,001 RISK FREE BET AT WILLIAM HILL WITH CODE LEGALRF
They've long operated a number of sportsbooks in Nevada (more than 150) and now they've set up shop in the state of New Jersey. If you've been looking for a new outlet to place your bets, William Hill is one of the top NJ online sportsbooks that you can use.
We spent some time with William Hill to craft this review. We opened accounts, tried depositing, withdrawing and placing all types of bets.
Here's our full review of the sportsbook from top-to-bottom:
William Hill Sportsbook Bonus Offers
William Hill has a promo code that you can use upon registration to boost your account.
Enter the promo code "LEGALRF"

Receive a risk-free bet up to $1,001
William Hill Promo Codes – August 2022
William Hill is always offering a slew of NJ online sports betting promotions, so some of what we've detailed below is bound to change. At the same time, one of the highlights of this sportsbook is that they always have fun bonuses and incentives on the go, so we wanted to give you a taste of what it looks like being a customer with them.
Big Odds Boss – If you hit the biggest parlay at the sportsbook within a given time frame (usually every two weeks they refresh), you'll earn a $1000 bonus.
Golden Strikeout Monday – If you bet $25 or more on a baseball moneyline, you'll get $1 back for every strikeout by the losing team. If any player strikes out four or more times, you'll double your payout.
Business Hours Boost – If you $50 worth of bets on baseball games that start at 3:35 PM ET or early on Thursdays (a popular day for day games), you'll get $10 cash bonus. If you bet $250 or more, you'll get another $10.
$2 Dingers – If you bet $25 or more on baseball moneylines on Fridays, you'll get a $2 bonus for each home run by the winning team if your bet wins. If anyone off the winning team hits a grand slam, you'll get $10!
Longball Parlay Cashback – If you bet baseball parlays with four games or more, you'll get 20% back for every losing bet (maximum $50).
Diamond Live Club – If you place at least $100 in bets for InPlay baseball, you'll get a $10 bonus back. That's regardless if you win or lose.
William Hill New Player Bonus
William Hill has a very simple promo for new customers. When you sign up for an account, your first bet will be risk-free up to $1,001.
Simply make your first wager after signing up and deposit with promo code LEGALRF. If it's a winner, you're off to the races! But if you don't win your first, don't worry. William Hill will you give a do-over, refunding the entire amount in the form of a free bet credit.
Just make sure to use your free bet within 7 days as it does expire after that.
William Hill Online Sportsbook Free Bets
In terms of free bets for your initial deposit, we've covered that above. However, if you take a look at their ongoing promos, you'll see that you can earn bonuses and cash back a number of ways when you bet at William Hill Sportsbook.
NJ Sports Betting Loyalty Rewards Program
Unfortunately the only loyalty program a rewards club that is currently on-property only. However, here's a little information about it just incase it allows online earnings as well.
With the Rewards Club card, you can accrue points for any type of race or sports wager, then redeem those points for either sports play or other comps at your favorite William Hill location. It is free to join the Rewards Club and enjoy all of its benefits.
Who is Eligible for a William Hill Sportsbook Account?
To be eligible to sign up for an account at William Hill, you have to be a resident of the state of New Jersey and at least 21 years of age. Since you're creating an account online, they're going to have to very who you are as per the KYC (Know Your Customer) rules. That simply means that if you use the app or website to sign up, you'll have to scan an ID so that they can confirm who you say you are.
How to sign up for a William Hill Sports account?
Signing up for an account at William Hill is a breeze. Once you hit the home page, you'll see a yellow 'Register' button in the top left of the screen. At that point, you'll be prompted with a form to fill out. There are a few quick pieces of information they require – the same basics as any New Jersey sportsbook – such as name, e-mail, date of birth, and address.
Although the whole process takes about a minute or less, keep in mind that they will have to verify you by some type of ID. That's because by law, they have to make sure you're a resident of the state of New Jersey and are of age.
Once you have an account, you're free to deposit some money and get in on the action.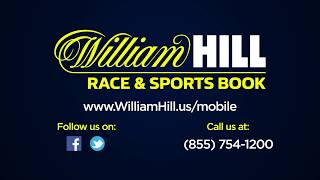 William Hill Sports Betting Software
We spent a few days testing out the William Hill website and software and we can report back some positive news. Overall, the experience is very good.
The first thing we look for with sportsbook sites is how intuitive is their layout. Typically, if you have to think about and have to look for things, it's already a lost cause. The good news is most sportsbooks have this down pact and William Hill does as well.
When you first hit the site, you'll see the sports offered on the left-hand side and then once you click through those sports to pick something, the lines will reveal in the middle of the screen. As you make your selections, they'll pop up on the right-hand side on your bet slip.
The second important factor for us in our reviews is speed. If there's any type of lag, that becomes a problem. There isn't any with Will Hill. We tested with multiple browsers and on different connections, and everyone should be satisfied. The website is light on graphics, so nobody should get bogged down here.
We also spent some time with their live betting product, which most people will be doing, and it deserves a good grade too. They've dressed up their in-game experience a little bit so that if you're following a specific baseball game, you'll see a box score and see animations for every pitch. That's all above the in-game lines, so you still have access to those at all times.
If we had a complaint about the site, it's that it looks too plain. It doesn't exactly look luxurious but for the most part, nobody is going to care about that. The betting experience is smooth and we've really got no complaints about their software.
William Hill Sportsbook App
If there's one adjective to describe the Will Hill app is that it feels very natural. Whether you're new to betting on the go or have been doing mobile betting for years, you're going to find this experience very intuitive.
Once you're in the app, you'll find it quite comfortable working your way around – even though you have less real estate to work with. You have a hamburger menu in the top-left to find all of the sports and then once you make your pick, you'll see the lines unfold in the center of the screen, which is not to different from the web version.
Although many people are used to a wide screen and a mouse, we found it quite natural working our way around through the app. We tested depositing, withdrawing, regular betting and even live betting and it was a first-class experience. They've done a good job with this design.
William Hill Sportsbook Pricing
Will Hill is about on par with all of its competitors in terms of the regular sports betting lines. Whether you're taking a look at the NFL spreads (-110) or the baseball lines, they are all roughly similar to PointsBet, BetStars, DraftKings and FanDuel.
Of course, different books will have slightly different prices on favorites or underdogs for a given day, which is why it's best to have multiple accounts at multiple books. But in terms of the day-to-day lines (we checked the baseball card, golf futures and odds to win the NBA Championship) and there wasn't a sizable difference between Will Hill and its chief competitors.
Markets Offered at William Hill Sportsbook NJ
Baseball – MLB
Basketball – NBA
Boxing
Cricket
Darts
Football – NFL, NCAAF, CFL, Australian
Golf – PGA
Hockey – NHL
MMA – UFC, Bellator
Motorsports
Rugby Union
Soccer
Tennis
William Hill Sportsbook: Types of Bets
For the most part, Will Hill has the majority of what you'd be looking for in terms of bet types. You'll find moneylines on all of the major sports, spreads, totals, futures and more.
With baseball alone, you'll find moneylines, totals, and runlines on every game. They'll also usually have every game on the board available for live betting too. As the game progresses, you'll see props on in-game totals, lines for the first five and seven innings, and a constant moneyline up while the match is happening. In terms of parlays, you'll find the basic options as well as Round Robins too.
Teaser fans will be pleased to know that you can play teasers of all kinds (in terms of points) for NFL, college football, and pro basketball. You can play teasers anywhere from two to eight games.
In terms of what's available to you, it's mostly just the basics. You won't find a ton of player props, lines on current happenings like politics or reality TV, or props related to news like the performance of a player after getting traded. It's the basics: spreads, lines and totals for all of the major events. That's what the majority of people will care about.
Banking options at William Hill Sportsbook
William Hill offers a number of deposit and withdrawal methods for players so that you can easily get your money in and out of your account.
Deposits at William Hill Sportsbook
Here's a list of the options available to you to deposit:
Visa
MasterCard
ACH (also known as eCheck)
William Hill Prepaid Card (Discover prepaid card)
Bank Wire
Cash at the teller at Monmouth Park Sports Book, William Hill Sports Book at Ocean Resort Casino, and William Hill Sports Book at Tropicana Atlantic City.
Keep in mind that not all banks clear credit cards for sports betting deposits. Many Visa and MasterCards do but you might have to check with your bank to see if you have a card that allows it or not.
Limits:
The minimal amount for a deposit at Will Hill is $20 bit the maximum will depend on which method you go with. For example, credit/debit cards are limited to $1000. However, the Will Hill Prepaid Card allows for $2000 daily, $4500 weekly, and $10,000 monthly.
If you need to transfer in a big amount, cash at the teller or bank wires are your best bet.
Easiest Deposit Method:
Credit cards are your best bet in terms of the easiest and fastest method. As long as your bank allows sports betting transactions – and many do – it's the fastest way to get your money in and out of your sports betting account. The deposits are instantaneous.
Withdrawals at William Hill Sportsbook
A lot of the withdrawal methods mirror the deposit methods, which is common for a sportsbook. That's not quite the story at William Hill but they do have some decent options.
Here's a look at what they offer for withdrawals:
William Hill Prepaid Card
Bank Wire
Cash at the teller at Monmouth Park Sports Book, William Hill Sports Book at Ocean Resort Casino, and William Hill Sports Book at Tropicana Atlantic City.
Check request (7-10 days)
Limits:
Just like for deposits, the prepaid cards are limited to $2000 daily, $4500 weekly, and $10,000 monthly. If you need to request a sizable withdrawal, bank wires are available to you and you can also get sizable five-figure amounts from the teller at the casinos.
Easiest Withdrawal Method:
Check or bank wire is our preference. The checks tend to get zipped over fairly quickly. We'd love to see PayPal or a method where it's faster but that's fine. If you are looking for a huge amount (in the five-figure range), bank wires are your best bet.
GET A RISK FREE $1,001 BET AT WILLIAM HILL – USE CODE LEGALRF
How to Contact Customer Support
Will Hill's customer support is available to you 24 hours a day, seven days a week, and 365 days a year. They're available via Live Chat straight from the website, you can shoot them an e-mail at [email protected] and you can also give them a call at 1-855-754-1200.
Benefits of Betting at William Hill Sportsbook
Will Hill is one of the most reputable brands in sports betting. They're recognized as one of the top shops in the world and there's a reason for that: you know that they're going to keep fine-tuning the product, making it better and finding ways to give you a better experience.
Overall, the experience right now is quite good. What we love about Will Hill is that they do a solid job of the basics. The website runs smooth, the app is fast and you'll have lines up on all of the major events. We also really enjoyed the live betting experience as it's really crisp.
What William Hill Sportsbook could improve on:
In comparison to their competitors, Will Hill lacks a number of betting lines. For example, PointsBet and DraftKings will always have an array of player props up either for the night, in relation to big news or just to give you more ways to bet an event. For example, while Will Hill has odds for golf majors, the other books do too along with special Tiger Woods props, groupings to bet on, Top 10's, and much more. Another example would be PointsBet posting lines on Antonio Brown and Odell Beckham's season-long performance for yards and touchdowns after they were traded. Will Hill sticks to the basics.
In fairness, they do have a few props they put up related to daily happenings like a prop for a specific player to hit a home run and his team to win, but it's far less than the competitors.
They also lack a little in terms of withdrawal options. Checks will work for most people but you'd like to see more options become available. At the time of our review, they communicated that they are expecting to make more available in the coming months, such as PayPal.
William Hill Sports Betting Online – Editor's Review
[wp-review id="1461″]
William Hill Sportsbook Background
William Hill is a bookmaker that's based in London, England. It is one of the few sportsbooks worldwide that is actually a publicly-traded company (London Stock Exchange). What that means is that this is a very reliable brand. They care about their customers and they are held accountable by shareholders.
They've also been around a long time since they were founded in 1934. They've been acquired many times over but the bottom line is they have an incredible history and track record. By comparison, most sportsbooks are fairly new like PointsBet, DraftKings, and FanDuel.
Nowadays, the company operates worldwide and employs nearly 17,000 people. Not only can you bet online through them, but you can also bet at over 2300 physical betting shops worldwide. Not only do they run their own sportsbooks, but they also manage well over 150 sportsbooks for brands in Las Vegas.
In terms of their sheer size, global presence, and experience, William Hill dwarfs almost all of the American competition.